Differences Between the Mirage and Mirage G4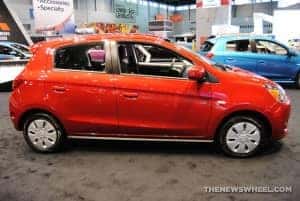 The much-loved compact Mitsubishi Mirage goes through a little tweaking to become the Mirage G4 sedan. But just what are the differences between the Mirage and Mirage G4? Here's the Mirage vs. Mirage G4.
Trunk
A big difference between the Mirage and Mirage G4 is the trunk space. The Mitsubishi G4 sedan offers you a different arrangement of space than the Mirage's hatch trunk.
Body Styles
Some people might not love the style of the hatchback Mirage. If you're more of a sedan person, then the Mirage G4 is the perfect vehicle for you. The G4 actually stands for "Global 4-Door," which refers to the G4's four doors instead of the Mirage's five doors. This makes one of the biggest difference between the two vehicles the G4's sedan body style compared to the Mirage's hatchback.
Size
The Mirage G4 is slightly larger than the Mirage with an overall length of 169.4 inches. It's small and compact like the Mirage, but still gives you that sedan roominess.
Price
The Mirage G4's starting MSRP is slightly higher than the Mirage's with the sedan-style costing you about a $1,000 more.
In the end, the Mirage and Mirage G4 share many great attributes – it's just about what's more your style! Whether you love a hatchback or a sedan, you've got two great options with the Mirage and Mirage G4.